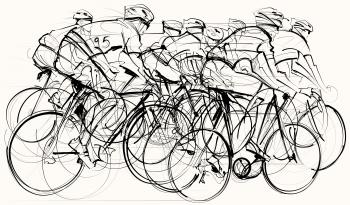 January 2019
Media giant Sky has just announced that it's pulling out of cycling. From 2020, it will no longer be associated with the eponymous WorldTour team that saw six Tour de France wins over seven years. 
The deal is the primary source of income for the team; a hefty £30m annual fee towards team costs with an estimated advertising return of +£500m plus, alongside smaller partnerships with adidas, Gatorade and Ford.
Word is that one factor was cycling's bad publicity over 'therapeutic' use of drugs – from the team that promised to win clean but it's also likely that Sky's take over by Comcast in September will have meant major reviews.
But Sky's decade in cycling seen it help change the face of the sport, and benefit from that journey. Originally a partner of a supremely confident British Cycling, they can be proud of really making a difference. 
HSBC has been British Cycling's new partner since 2017, a comprehensive deal that runs across the GB Team and participation events and includes the naming rights to the National Cycling Centre in Manchester while Prudential has grown Ride London superbly.
But surely this is a sport ripe for greater engagement? For the corporates, today's ambitious executives are donning Lycra and heading for their bikes, not the golf courses; for brands with a wellness agenda cycling is an easy way to get us all active; in terms of social impact it can help combat air pollution and reduce congestion in our cities. 
Sky's dominance may be over but that is an opportunity for new partners of this true sport for all.