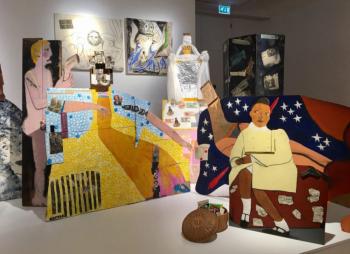 May 2018
Hey! Have you heard? The Turner Prize has found a sponsor. Not even a cool new brand, but a blue-chip corporate. A French bank - BNP Paribas. 
Surely, they must be mad? The Turner Prize is hard work – that light going on and off again, the proverbial pile of bricks – who even won last year? 
Lubaina Himid.
Well exactly. So why would anyone want to sponsor it?
You are such a Philistine. There are a few reasons:
A prize is a good platform for sponsorship – there is a regular communications cycle to build an activation programme around – the call for entries, announcement of judges, long list, shortlist, winner. A party to invite clients to. And the same again next year so you can build momentum
The brand is strong – even non-arts people have heard of the Turner Prize. And its prestigious. Winners have included Damien Hirst, Rachel Whiteread, Gillian Wearing, Grayson Perry. 
It's run by Tate, another great brand, so you know that it's going to be well managed. 
I see. So they know about brand do they? I've never heard of them.
Actually, they do have a track record in arts sponsorship here. They are also one of the biggest global brands in tennis, and a consumer bank in France. They are targeting a B2B audience. In fact, they also have a property and a car hire business. And look! Now you have heard of them …
Okay, I get the brand thing, and as it's not an easy sell I imagine it was priced competitively. But corporate sponsorship is still about hospitality and isn't the next Turner Prize exhibition in Margate? Hardly a major business hub.
Er … hmmm … only an hour and a half by train from St Pancras?