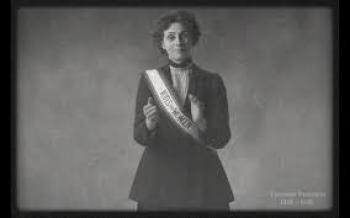 December 2018
100 years ago this week, women in the UK voted for the first time in a general election. Over the summer we were lucky enough to be involved in a sponsorship of this unique celebration.
PROCESSIONS was an inspirational mass participation art event. Tens of thousands of women walked through the UK's capital cities, wearing the colours of the suffragette movement – green, white and violet – standing for Give Women Votes, and carrying beautiful banners.
Commissioned by 14-18 NOW and produced by Artichoke the event was sponsored by NatWest – and under the brands Ulster Bank in Belfast and Royal Bank of Scotland in Edinburgh. 
We worked for 14-18 NOW – the cultural programme commemorating 100 years since the First World War - managing the NatWest relationship, helping secure and activate the sponsorship across its brands, agencies and all the partners involved.
The bank's wider relationship with 14-18 NOW was driven by a desire to commemorate the Armistice anniversary company-wide and to support their Holts military banking brand. The PROCESSIONS commission offered a vehicle that also allowed them to demonstrate their support of diversity and of women. 
With a series of banner making workshops in their offices, and call outs on their internal communications channels – the event was activated strongly through their Women's Network with representatives taking part in receptions and the event itself.
NatWest's digital activation was incredibly powerful. From photographs of Emily Pankhurst and Millicent Fawcett they created life sized animations of the Suffragette and Sufferagist leaders applauding the women taking part in the event. These inspiring and very moving films were placed at the end of the event on giant screens, in a localised digital advertising buy and on social media. 
The bank released a short film this week to mark the anniversary. You can watch it here – and if you were one of those women taking part – relive a truly memorable commemoration.