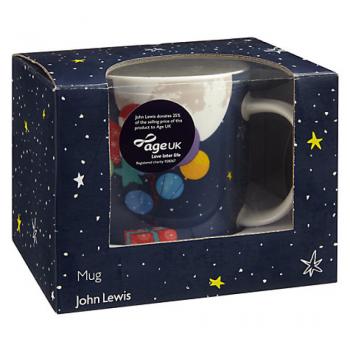 December 2015
The battle of Christmas ads is drawing to a close, continuing to leave us all reaching for the box of tissues again and again. Last year's winner, John Lewis, upped the social-ante this year, by swapping the cute WWF's adelie penguins for the white-haired old moon man and Age UK.
The cause-related campaign had a slow start in November with its "slightly spooky" (according to my 11 year old niece) Man on the Moon ad. The seven million pound TV campaign didn't mention Age UK at all. However, it was updated with a second 'behind the scenes' charity-branded offering linked to the Age UK Christmas campaign 'no one should have no one at Christmas' and a call to action. Much better.
The initial retail offering of a branded mug and a card with a donation of 25% plus the VAT to Age UK was also extended to include moon installations in 11 stores that encourage people to text Moon to 70800 to donate £5 and directing people to the charity's online donation page.
There are other Man in the Moon marketing elements that don't include the charity link – merchandise including glow in the dark pyjamas, chocolate coins and table cloths were perhaps considered too frivolous?
And the smartphone app of moon facts and games may have a hidden charity link but I haven't been able to find it. Perhaps looking after older people at Christmas is considered unsuitable messaging for children? Or maybe just one too many thing to communicate?
This illustrates the real challenge of retail partnerships – what's the perfect balance between cause-related marketing, and marketing the cause?
The best campaign not only drives brand narrative and retail sales for the business, impacts against awareness and fundraising targets for the charity but also contribute directly to the charitable mission – in Age UK's case helping make later life an enjoyable and fulfilling experience.
Working with people – the charity clients – is the messy bit of these kind of partnerships. It requires on the ground community engagement – a different kind of time and effort to shooting ads and branding mugs.
John Lewis has run a series of events for people to get together at its stores. Each is organised locally by the estimable John Lewis staff with the help of Community Links. However, the staff partners on the John Lewis help line and in my local stores weren't able to tell me anything about them, which is a shame. Perhaps more joined-up direct action through stores could be a target for next year?
So, for John Lewis. Room for improvement but still our Christmas number one.
Contrary to popular opinion, its not really the thought that counts – it's the action.