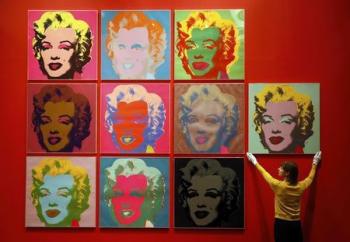 April 2018
Morgan Stanley engaged employees with its arts sponsorship in non-traditional ways 
Engaging employees with an arts sponsorship is usually about a talk from a curator during your lunchbreak, some tickets and a free drink. How refreshing to hear about Morgan Stanley's Employee Art Guides at the Think!Sponsorship conference.
Morgan Stanley sponsored American Dream: pop to the present at the British Museum last year. As part of their focus on talent retention and acquisition – attracting and keeping the best people – they trained fifteen employees to be art guides. The employees, from across the business and at a range of pay grades, learnt about the artwork and then stood in the British Museum galleries to help Morgan Stanley guests appreciate and understand the art they were seeing. Quite a big step away from the day job. 
Why do we like this? Well, it made an impact on multiple levels – according to Lisa McBreen, the head of marketing at the bank. They got emails from clients saying how impressed they were with the employees performances and the idea got pick-up in the media including the Sunday Times. Those employees also became ambassadors for the arts, helping to drive engagement with the sponsorship across the firm. The project was used as content on their digital channels, and no doubt it will become part of the story for their recruiters on University campuses up and down the country.
We also like the underlying narrative. The American Dream exhibition was about new ways of seeing America. This activation also invites us to look again – at our colleagues, at ourselves, and ask what else we might be capable of too. Inspiring.